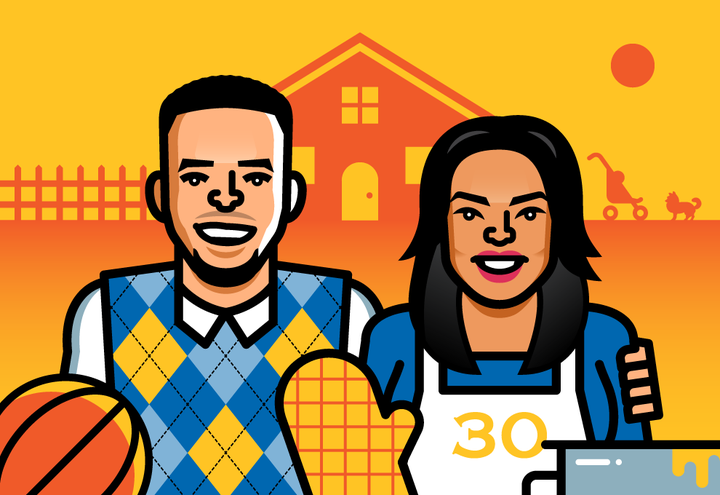 Elias Stein for BuzzFeed News
On the front cover of Ayesha Curry's new cookbook, The Seasoned Life: Food, Family, Faith, and The Joy of Eating Well, Ayesha smiles beatifically at the camera, dressed in a white lace dress, two peaches nestled in her right hand. Out of focus, but next to her on a shared picnic blanket sits her husband, Steph Curry, the two-time MVP point guard for the Golden State Warriors. Wearing a gray cardigan, he's looking away from the camera, as their daughter Riley, 3, leans against him, smiling.
The photo perfectly encapsulates the Curry family brand: happy, tight-knit, and photogenic, projecting a well-crafted approachability.
Since Steph's emergence as an NBA superstar in 2015, the Currys have become media darlings. They graced the June 2016 cover of Parents magazine, discussing the beginnings of their fairy-tale marriage (Steph: "I was 23; she was 22. But I knew I had found the right woman and I wanted to start a life with her."); and the supportive nature of their parenting (Ayesha: "He'll get down on the floor and play with the girls. He'll put on dress-up clothes if he has to, and he's very patient, which is something I'm not. We balance each other out.") In August, they were featured on the first episode of the TLC show Playhouse Masters, along with Riley and their younger daughter Ryan. In that same month, People.com picked up a photo shoot the family did for upper-crust publication C Home, inside the family's Walnut Creek, California, mansion. And Ayesha was the subject of a gushing September issue San Francisco magazine story: "To label Ayesha Curry as simply a WAG, famous for nothing more than being a star athlete's better half, is a gross disservice, like calling Hillary Clinton the mother of Bill Clinton's child."
The Currys have become exemplars of an innocuous, extremely marketable family — close-knit, attractive, Christian, and charming with a tendency towards corniness. But their popularity has proven controversial. Twitter memes have positioned Ayesha as the "good foil" to various black female celebrities' slutty vixens, while Steph has been praised for his faith and lack of ostentatiousness as though such attributes were sui generis in the NBA. Their ascent as the Good Black Family has been fueled in part by overly generalized ideas about who gets to be considered decent or good, occasionally at the expense of an implied darker (sometimes quite literally) Other. Their media appearances in genteel, upper-class publications that don't normally cover black athletes' families is indicative of this framing. And while it's undeniably lucrative, such a standard is impossible to maintain. Any family would buckle under such pressures — and so, the cracks in the Currys' image have begun to show.
Before they were a "pretty, picturesque, All-American family," Steph and Ayesha were two teenagers who attended the same church youth group in Charlotte, North Carolina, though they didn't date at the time. ("I wasn't allowed to date in high school. We always laugh that we were both focused on God," Ayesha told Parents magazine in June). They reconnected, as millennials do, on Facebook in 2008. Steph, by then a rising junior at Davidson College and a basketball phenom who had broken NCAA records, went to Los Angeles to attend the ESPY Awards. He sent a Facebook message to Ayesha, then 19 and also living in LA trying to jump-start an acting career. After "an admittedly 'cheesy' first date where they drank chai tea lattes [and] took pictures with Marilyn Monroe impersonators," they began dating in earnest. In 2009, Steph joined the Golden State Warriors team in Oakland and in 2011, the couple got married. Despite Steph's height, (he's only 6'3''), he became a lethal shooting threat until various injuries threatened to derail his career.
That changed during the 2014–15 season. Former player and NBA analyst Steve Kerr replaced Mark Jackson as the Warriors' head coach, and brought a faster pace and space method that allowed a team of talented shooters, specifically Steph, ample freedom to create shots. Steph thrived during this period: breaking his own league record of 3-pointers in a season, becoming the NBA's MVP, and leading the Warriors to their first championship in 40 years. The Washington Post heralded him as "The Sports Figure of the Year", FiveThirtyEight called him "The Revolution," and Grantland writer Brian Phillips referred to Curry as "a demigod hanging with Olympians." Steph was without question a superstar, moving into rarefied territory, his skills being compared to the likes of Michael Jordan, Magic Johnson, and the reigning king, LeBron James. But it was his daughter Riley who took Steph to the next level of stardom.
Whatever fame the Curry name had amassed came primarily from Steph's spectacular 2015 season and his father Dell's success as a Charlotte Hornets shooting guard in the late '80s and '90s. But during the Western Conference Finals in May 2015, Steph brought Riley to his postgame press conference, where she interrupted his routine answers to uninspired sportswriter questions by loudly yawning, talking over him, laughing at him, waving at people in the audience, walking around the table, and just generally being adorable.
A photo of Riley Curry speaking into her father's mic quickly turned into a meme and Riley became an internet sensation. Her performance gave much-needed personality to Steph, an excellent player but otherwise bland public figure who lacked the eccentricity of past famous ballers such as Charles Barkley or Dennis Rodman.
During the NBA finals, Riley made a second press conference appearance, just as much of a spectacle as the first. She sparked controversy among the sportswriting community tasked with getting quotes from players about the night's game and not particularly moved by the antics of a 2-year-old. (Former First Take pundit Skip Bayless even called for a ban on children at NBA press conferences.) The complaints were so incessant that Ayesha wrote an open letter in Time magazine, defending her daughter: "I believe you should let your children be children, and don't be afraid to be a parent, regardless of who's watching." The letter was well received and introduced Ayesha as a voice demanding to be heard.
Though Ayesha had been uploading cooking videos to her YouTube channel since the spring of 2014, they hadn't done much to establish her as a public figure. (The channel's biggest hit before Riley's breakout moment was of Ayesha and Steph performing their own remix of Drake's "0 to 100.") Most of the videos were innocuous, featuring Ayesha making dishes like crepes or bananas Foster as Riley (and occasionally Steph) mugged for the camera. But in their banality, they offered an appealing glimpse of the Currys as an aspirational but (crucially) relatable family. Riley's star turn only made the family unit more attractive.
Steph and Riley Curry at the 2015 West Conference Finals
Screenshot / Via youtube
While precocious kids in the NBA are nothing new (see Chris Paul's son in 2012), historically, the families of celebrity athletes have only ever been thrust into the spotlight when one of the brood attempts to follow in the footsteps of their famous parent. Nobody wrote about Michael Jordan's kids until his sons, Jeffrey and Marcus, began playing ball in high school and the expectation of living up to their father became a story. You know about Laila Ali because she went into boxing, like her dad.
The Currys break with this tradition. In some ways, the public's narrative around them evokes the wholesomeness and relatability of a sitcom family, from the Huxtables (Riley as Raven-Symoné's character Olivia, of course) to the Johnsons on ABC's Black-ish. It's a narrative that's been driven largely by the media coverage surrounding the Currys, Steph in particular.
When the San Francisco Chronicle wrote about Riley Curry's viral antics in May 2015, the piece also commended Steph as a father: "In a world where people constantly criticize athletes for arrogant attitudes and boorish behavior, watching this family grow right before our eyes should be applauded and appreciated. Stephen Curry is definitely a Most Valuable Papa."
In a June 2015 Sporting News roundtable with sportswriters who had written about Steph for various publications, journalist Cory Collins commented: "…everybody just talks about Steph Curry as the second coming of the Messiah, where he's just this perfect person on and off the court. In some ways it's really nice. It's nice to see that there's a humble athlete." The implication in such a comment, of course, is that humble athletes are a rarity.
This need to position Steph favorably against other players in the league even extended to his endorsement deals. This past June, Mic writer Alex Orlov analyzed Steph's endorsement with Brita water filters: "Curry's endorsement choices stand out in a big way, considering the majority of athletes and music stars tend to cozy up to sugar-laden soda brands — ahem, Lebron, Cristiano Ronaldo, Leo Messi." Then for the kicker: "Curry advocating for healthy food and drink makes him the role model American kids desperately need and deserve."
Becoming a paid brand ambassador has never sounded more like a noble cause.
Press about the Curry family continued in this fawning vein. In a June 2016 essay for The Undefeated, Michael Eric Dyson praised Steph and Ayesha as a couple, writing, "Steph and his wife have brought a verve and wholesomeness to black coupledom that is rivaled only by President Barack Obama and Michelle Obama." The June 2016 Parents magazine cover story added more high praise: "When he's not busy winning league MVP awards or NBA championships, the 28-year-old is the loving husband of Ayesha (a rising culinary star) and doting dad of daughters Riley, 3, and Ryan, 10 months. The duality of his life evokes Clark Kent."
The Currys were the American dream incarnate. If you worked hard, stayed humble, followed God, you too could have a beautiful family, a large house, and public accolades.
The Currys were the American dream incarnate.
Such wholesomeness paid off quite literally, in the form of endorsements. According to a Forbes list this past February, Steph earned $12 million in endorsement deals alone (well behind LeBron, who made $48 million in off-court earnings, but among the top 10 in the league). He and Ayesha were already spokespeople for the healthcare company Kaiser Permanente (they both starred in short YouTube videos for it) but after the championship, they became even more visible for the campaign, appearing in a nationwide commercial. Steph had also already signed to Under Armour in 2013 for $4 million a year, but after his dominant 2015 season, the company had a huge spike in sales of his Curry-brand shoes — and Steph acquired an equity stake and royalty earnings. There's StephMoji, Steph's own emoji app, and his partnership with CoachUp, a private personal sports training program. Ayesha's own Little Lights of Mine brand has extended beyond her "Cooking with the Currys" YouTube videos and into recipes, olive oil, DIY body products, and aprons. Riley even appeared in an ad campaign for the children's apparel company Freshly Picked.
Their endorsements — health care, shoes, kitchen items — served as a feedback loop, bolstering their public image as wholesome, benign, and family-oriented.
Meanwhile in popular culture, they posted videos of themselves dancing the Nae Nae, gallivanting to Drake, going horseback riding with Riley and lip-synching to songs from Frozen or Minions. They danced with Michelle Obama. All of this served to endear themselves to the American public.
Steph and Ayesha Curry doing the cooking dance in 2014.
Ayesha
,
Became
,
Black
,
Curry
,
FAMILY
,
Good
,
Steph