Master tailor Ibrahim Halil Dudu, who doesn't speak a word of English, was the unexpected hero of a Canadian wedding.
No one at the wedding was able to fix the dress, so they checked in with a neighbour to see if they could help.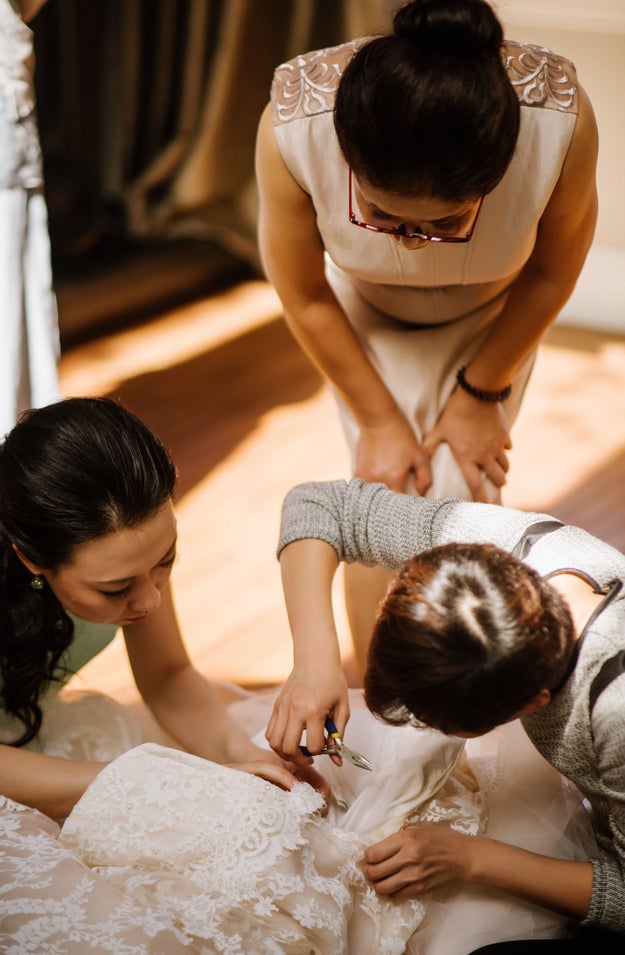 Coulter said that when the bridesmaid returned from the neighbour's house with a pair of pliers, she also revealed that there was perhaps an easier way to fix the dress.
"The bridesmaid came back [and] she said the neighbour not only has pliers but also is sponsoring a Syrian refugee family, and the father was a master tailor."
Lindsay Coulter Photography / Via lindsaycoulterphoto.com
A few minutes passed of the bridesmaids attempting to fix the dress themselves, before a knock was heard at the door and the Syrian father and son walked in with a sewing kit.
"I went out to take some photos of the groomsmen and came back to find the tailor putting the finishing stitches on her dress," Coulter wrote in a post on Facebook.
"The neighbour David told me they had just moved to Canada four days ago."
Coulter told BuzzFeed News the father and son, who don't speak English, used body language to communicate.
"Most of the bride's family was visiting from China, so there was already not much English being spoken. It was really amazing to see everyone communicate through gestures like bowing to say thank you."
Lindsay Coulter Photography / Via lindsaycoulterphoto.com
---
Brides
,
Broken
,
door
,
Fixed
,
Next
,
Refugee
,
Staying
,
Syrian
,
This
,
zipper