"Get off the bandwagon NL. It's not classy," tweeted one customer.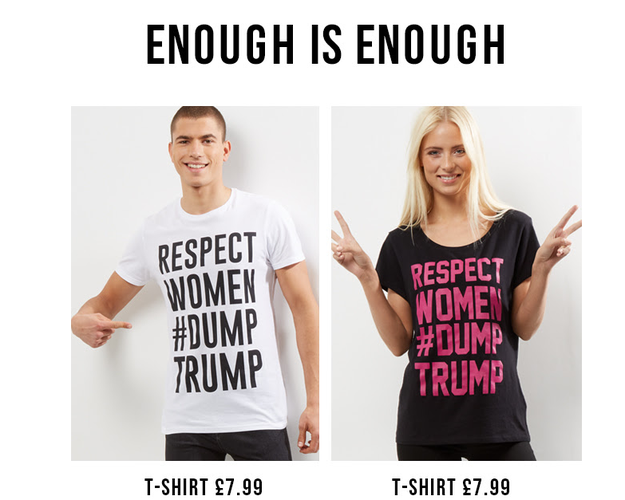 New Look / Via New Look
New Look has launched an anti-Donald Trump campaign, calling on its customers to "#DumpTrump" and "respect women".
The UK fashion retailer told BuzzFeed News it was not making a political statement, but "simply expressing our views that we fundamentally disagree with the comments made by Donald Trump in relation to women".
Trump has a history of making crude remarks about women. He called a Fox News anchor Megyn Kelly a "bimbo" and a "lightweight", and in an interview with Howard Stern, said he would get the "bathing suits to be smaller and the heels to be higher" after buying the Miss USA pageant in 1997.
In an email to its database on Tuesday, New Look said "enough is enough". It included a link to its website where customers can buy slogan T-shirts, for men and women, at a cost of £7.99.
One woman on Facebook said she had "mixed feelings about New Look using scum like Trump to make profits selling the T-shirts".
"I do hope you are going to give the profits to charities that help and support used and abused women rather than making a profit," she added.
Another said: "No way is New Look selling these t-shirts?!? Lol." Others praised the brand for its stance.
---
AntiDonald
,
BRAND
,
Confused
,
People
,
Selling
,
This
,
TRUMP
,
TShirts